Takayu Onsen and
Jododaira Trekking
Takayu and Jododaira
Trekking Course View Guide
Trekking Course Map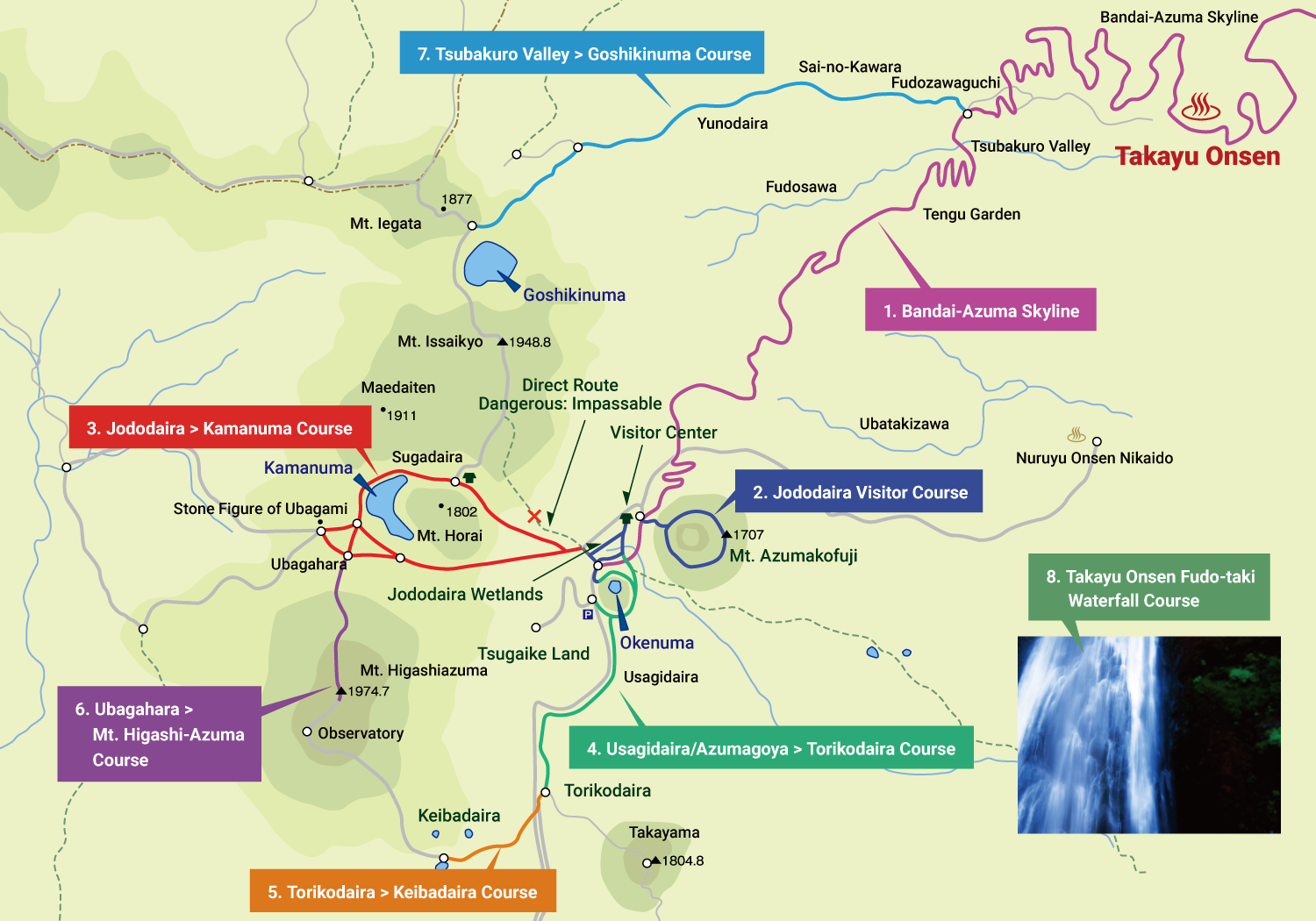 * Click one of the eight course names for more information.
1. Bandai-Azuma Skyline
This road with incredible scenery is the biggest reason why tourists visit Fukushima Prefecture.
The fabulous panoramic views go on and on from the comfort of your car.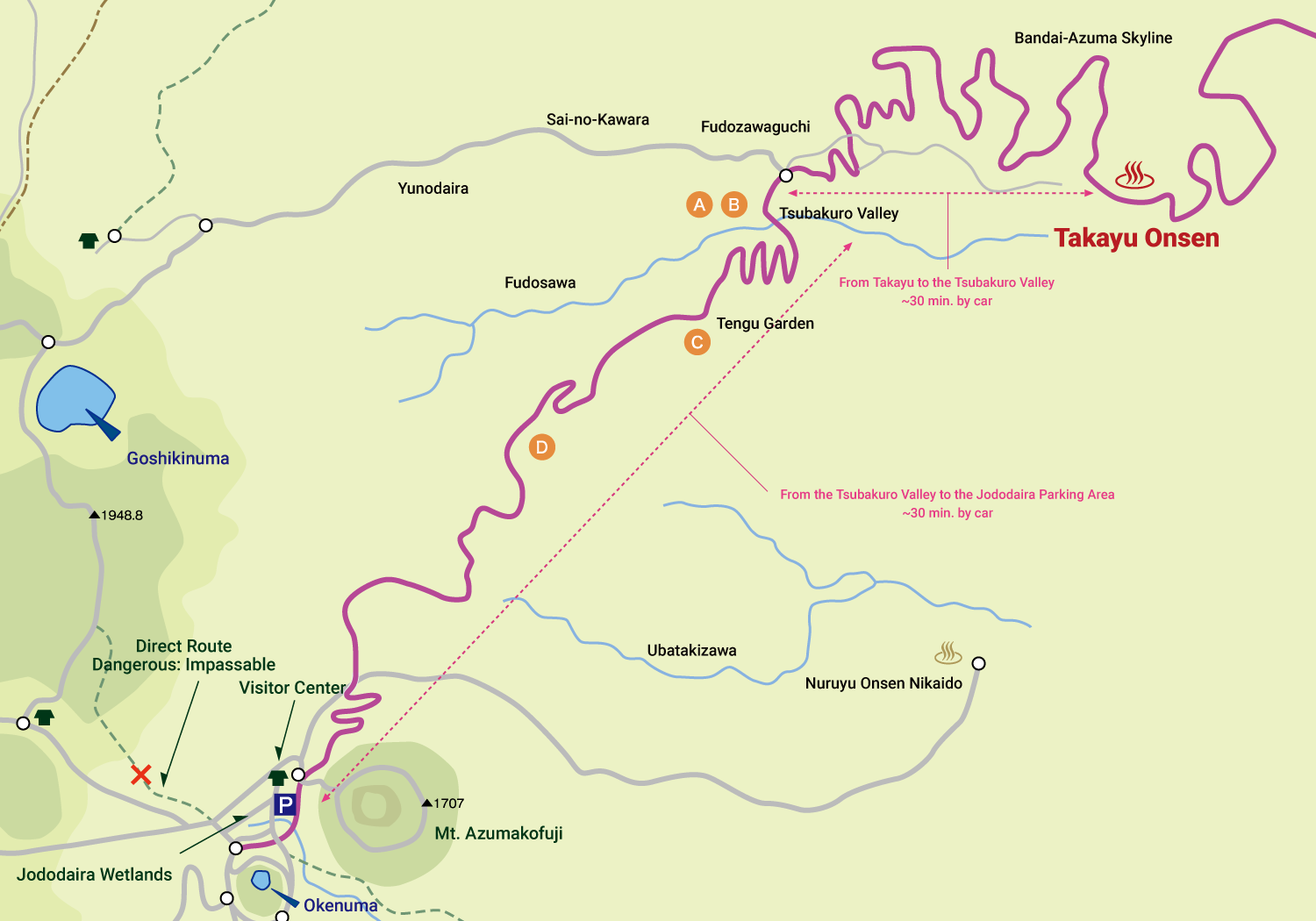 2. Jododaira Visitor Course
This main attraction for visitors to Jododaira offers amazing views of area, the peaks of Abukuma and the city,
all from a volcanic caldera. You can also explore the wetlands of Okenuma.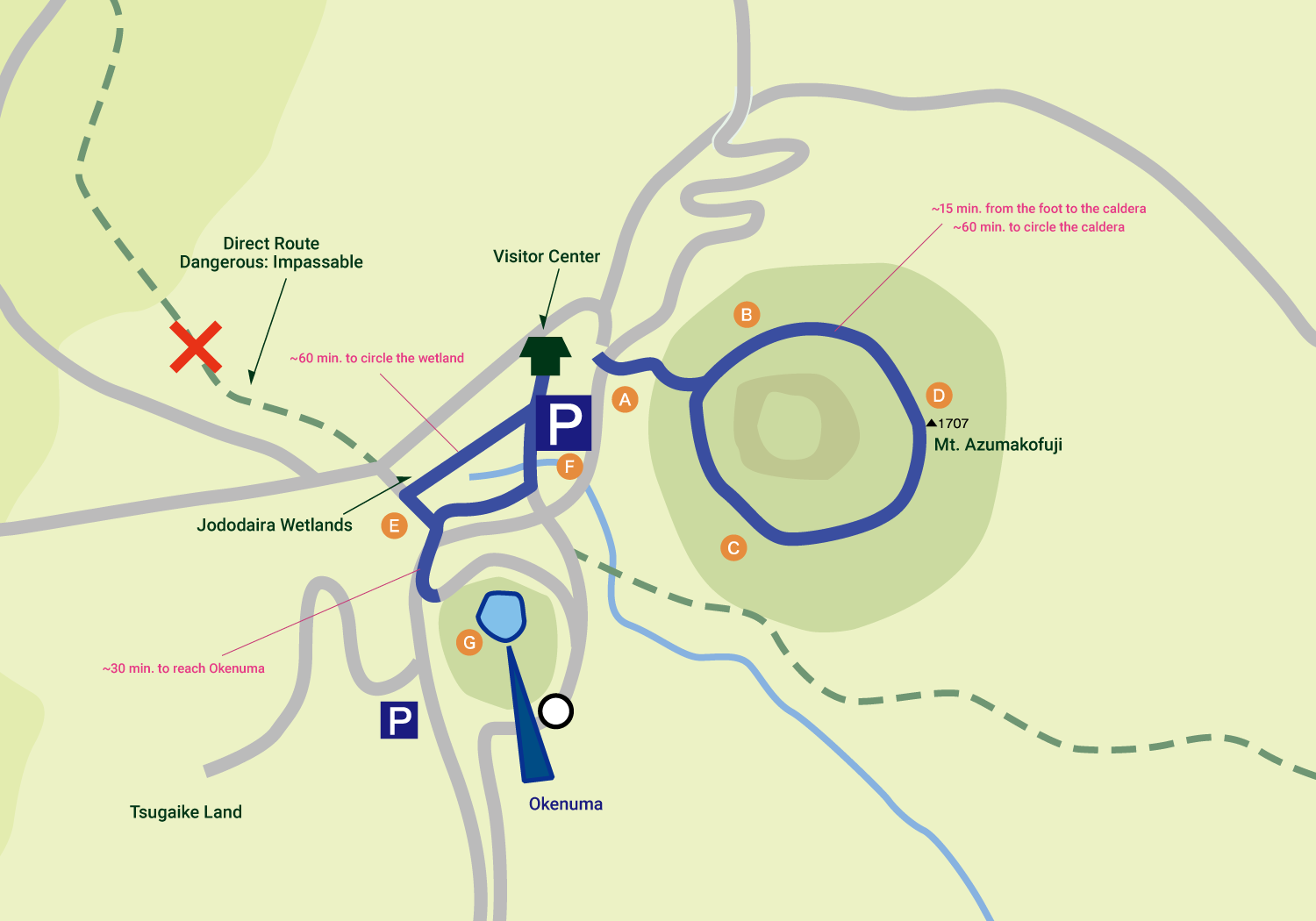 3. Jododaira > Kamanuma Course
Just a 70-minute climb from the Jododaira Parking Area.
Awaiting you is the sight of the mythological World of Darkness. Enjoy a leisurely stroll along the boardwalk.

4. Usagidaira/Azumagoya > Torikodaira Course
There is a camp site in the woods at Usagidaira. Deep in the woods is Azuma-Goya,
a lodge catering to mountain climbers. At Torikodaira, visitors will be soothed by some of Jododaira's best wetland scenery.
* This course is under survey for typhoon damage.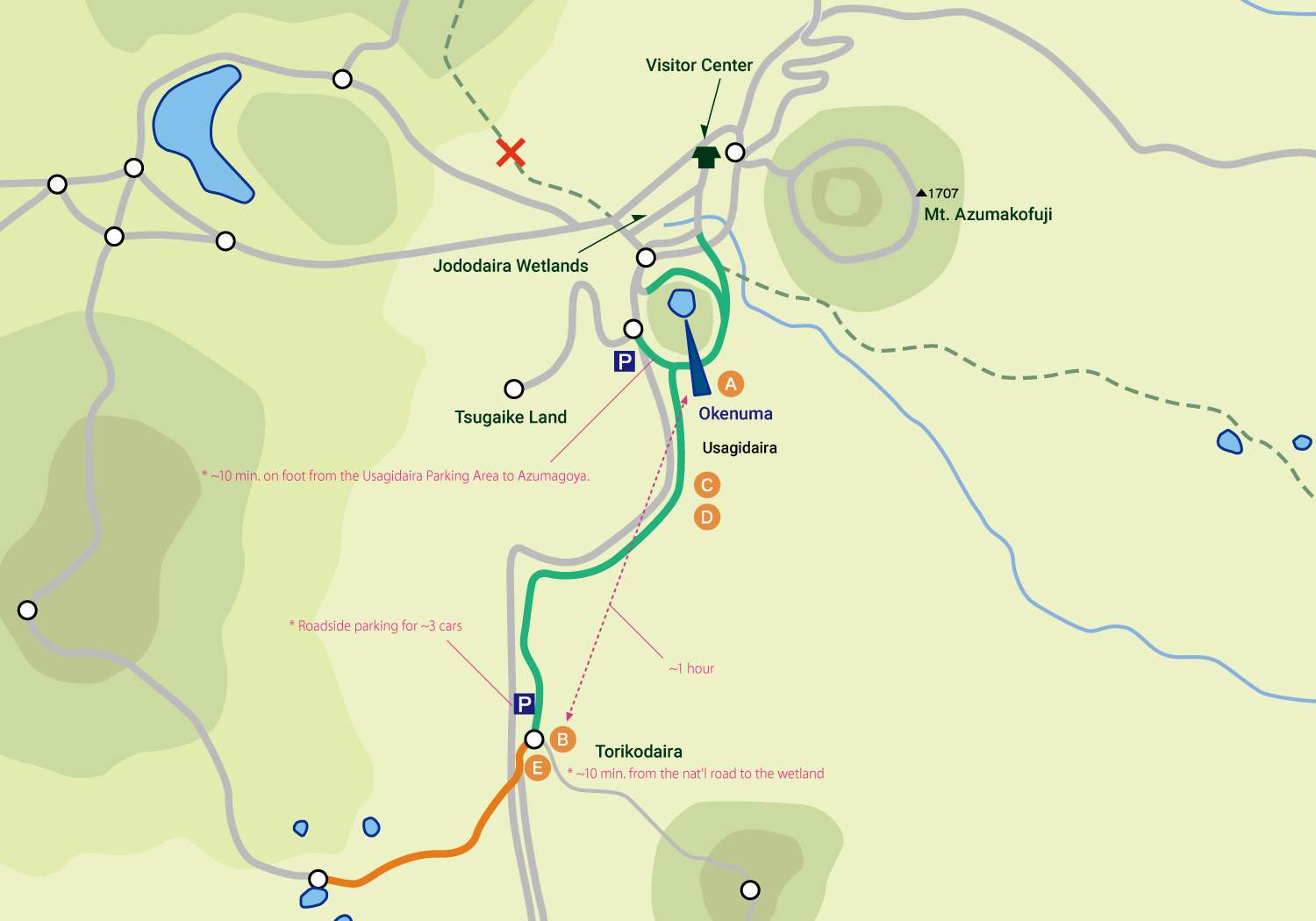 5. Torikodaira > Keibadaira Course
Keibadaira is the best example of the wetland landscape in Jododaira. The terrain,
peppered with large ponds and swamps, changes faces in spring, summer and autumn.

6. Ubagahara > Mt. Higashi-Azuma Course
Climb another hour or so from Ubagahara to reach Mt. Higashi-Azuma.
Lake Inawashiro is visible in the distance from this spectacular panoramic spot!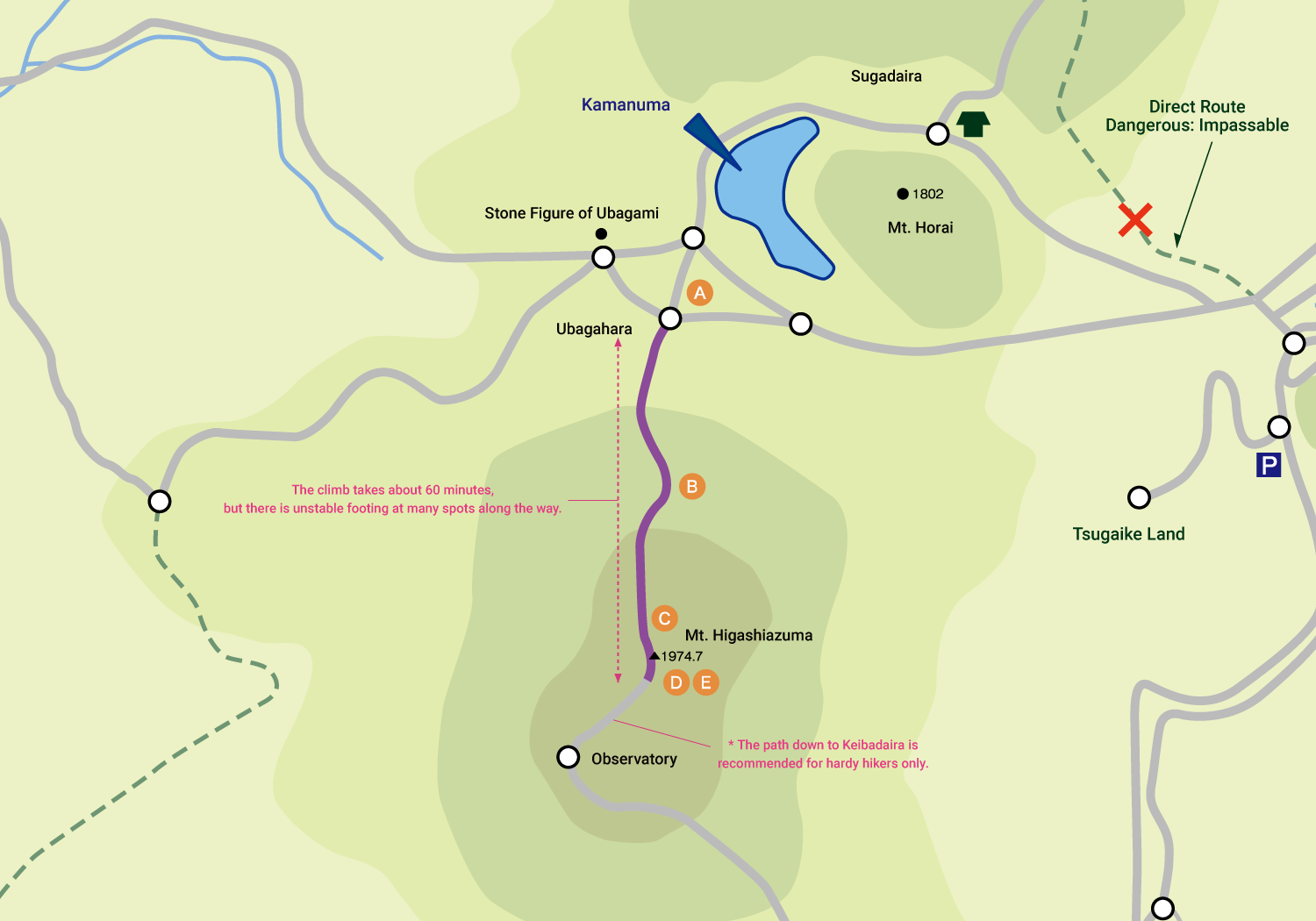 Tsubakuro Valley > Goshikinuma Course
* This course is under survey for typhoon damage.
8. Takayu Onsen Fudo-taki Waterfall Course
Get a fabulous view of a beautiful waterfall at Takayu Onsen. The majestic falls,
guarded by a mythological Wisdom King, change their appearance with each passing season.